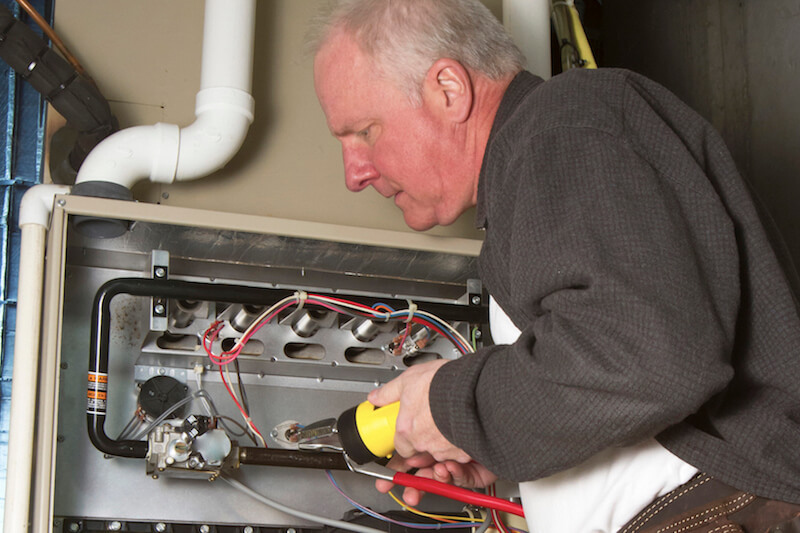 While your Lennox® heating system cannot talk to you, it has a procedure to tell you about a furnace error.
Its control board has twin LED lights that can show a fault code. Subject to the failure, your furnace could use continuous or flashing lights.
Although there are certain elementary furnace adjustments you can complete without an expert, the majority of tasks are best handled by the professionals. When your heating system will not start or deliver heat, call Freed Heating & Air Conditioning at 309-323-9584 for professional furnace repair in Moline.
Our experts will quickly detect and handle the problem, even if you don't have a Lennox heater. We can service all kinds or models—and get the comfort reintroduced to your residence without delay.
What Does the Flickering Light on My Heater Mean?
Your furnace relies on lights to flash code when it requires repairs. It also works these lights to relay it's working like it should.
Normal operation includes:
Simultaneous slow flash—furnace running like it should.
Concurrent fast flash—heating system is initiating the call for heat.
If you see a solitary light going on and off slowly and the other going on and off quickly, your heating system may be having a low flame signal. This can happen even when your furnace is heating like it should. It indicates the flame sensing rod might have buildup or in the wrong location on the burner. Call us at 309-323-9584 for support.
Here are several other of the most common problems for Lennox heating systems.
Heater Refuses to Start
Here are some of the light patterns you might observe when your heater won't turn on or keep running. The majority of these errors have to be repaired by an expert, like one from Freed Heating & Air Conditioning.
Both LED lights aren't lit. This indicates your heater might not have electricity. Find the breaker box to confirm the heating system fuse hasn't flipped. Try resetting the fuse if it's in the "off" area. If it instantly turns off after you reset it, don't try to reset it again and contact us at 309-323-9584.
An individual light is continuous and the other is flickering slowly. This shows the flame rollout switch is possibly not working right. The part is a critical safety guard that aids in stopping fires and carbon monoxide. You shouldn't seek to handle this malfunction yourself.
An individual light is flickering quickly and the other is flashing slowly. This typically means power polarity has been transposed. Your furnace might have a wiring issue that calls for specialized support from Freed Heating & Air Conditioning.
Both lights are blinking slowly. This means your furnace's blower motor probably isn't operating. This part circulates warm air from the heating system into your house. We can aid in determining what's causing a problem with this piece.
An individual light is flickering slowly and the other is flashing rapidly. This indicates your heating system may have low voltage or a short circuit. Get in touch with our specialists at 309-323-9584 for assistance.
One light is flickering on, on, off while the other flashes on, off, on. This means there may be trouble with your heating system's control panel or wiring. Freed Heating & Air Conditioning can determine the error and take care of it.
The duo of lights display alternating slow flashes. This means your heater likely has a flame error. There could be trouble with its gas supply, gas valve or ignitor control. Get in touch with us at 309-323-9584 for help.
An individual light flickers slowly while the other stays steady. This usually indicates your HVAC system's limit switch is experiencing an error. The switch prevents your heater from becoming too warm. Call the pros at Freed Heating & Air Conditioning for support.
Furnace Blower Operates But No Heat
Here's what may be broken when you notice your heating system's blower fan on, but you aren't receiving any warmth.
The pair of lights display alternate quick flickers. This means your furnace ignitor may be broken. This component kindles gas in your heating system to create warmth and should be repaired by an expert from Freed Heating & Air Conditioning.
Depend on Us for Skilled Furnace Repair
When you have to get your heater in working order without delay, turn to the experts at Freed Heating & Air Conditioning. Our techs will handle the issue without delay and have your residence feeling cozy again soon. Get in touch with us at 309-323-9584 or contact us online to get an appointment right away.